Invictus® Dryback luxury vinyl flooring comes in two ranges:

Invictus® Maximus consists of luxury vinyl planks and tiles with a wear layer of 0.55 mm. They offer excellent wear resistance and durability, which makes them suited even for heavy commercial use such as care, hospitality, office and retail.

Invictus® Primus stands for luxury vinyl planks and tiles with a wear layer of 0.30mm. They offer excellent value for money and are designed to effortlessly withstand the challenges of daily family life.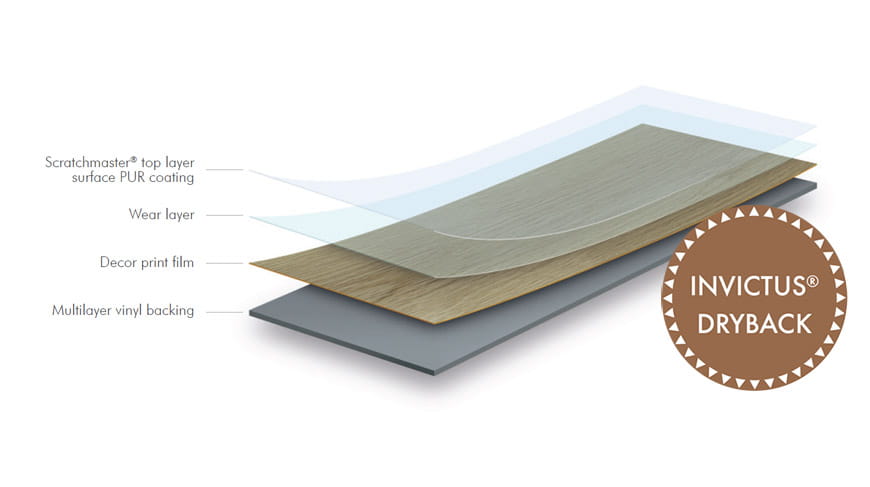 The advantages of Invictus® Dryback luxury vinyl flooring:

It is the professional installer's premium choice. Whether consisting of wood design planks or stone look tiles, Dryback flooring will offer a superb performance for many years to come. The floor is glued directly to the subfloor, resulting in exceptional dimensional stability.
---

No decorating wish remains unfulfilled: create original patterns or add embellishments like feature strips for a tone-on-tone or contrasting grout effect. The result is a stunning floor in either wood or stone design, that will have you look twice.
---

Dryback flooring is the ideal solution for installing on top of an existing floor. Installation of the planks and tiles on a leveled floor is easy, dust free and does not require the use of specialized tools: a utility knife is all you need. And no need to adapt the doors: because of its limited thickness, your new floor will easily fit underneath.